Iowa's Disability Resource Library
Serving people statewide
Among Iowa's libraries, the Disability Resource Library (DRL) in Iowa City is unique as an academic family resource center focused solely on disabilities throughout the lifespan.  Housed in the Center for Disabilities and Development on the University of Iowa campus, the library is staffed by a research librarian who can locate information on any number of disability-related topics.
At the same time the library is heart and soul a family- and person-centered resource that strives to respond to each client in his or her comfort zone.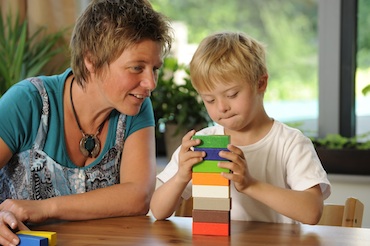 Assistive Technology
The Disability Resource Library's assistive technology collection is funded by the Iowa Program for Assistive Technology (IPAT), and includes educational technology and computer peripherals for loan as well as software for use on the library premises.  We also have alternative keyboards, innovative switches, and tablet interfaces.
Free one-month trial
It's important to note that we do not sell this equipment. It is available for home or school trial for one month.
Our Services
Multi-format access
We share information with our patrons through one-on-one consultation, newsletters, presentations, workshops and conferences.  The DRL has a disability reference collection enhanced many times over by access to the content-rich databases of the University of Iowa Libraries.
People with disabilities, parents, clinicians and professionals from all walks of life rely on us to provide concise information in the format in which they desire it.  Case in point: when a physician asked us for a Braille book in Spanish, we didn't have one – we had two!
In our 20 years of existence, DRL librarians have fielded questions from every county in Iowa.  We deliver materials via the postal service or electronic record to your location. We have a collection of over 5,000 items that include books, CDs and DVDs, curriculum packages, assistive technology, and therapeutic toys.
Contact the DRL
The Disability Resource Library is open weekdays (8:30 a.m. - 5:30 a.m.) in the Center for Disabilities and Development on the University of Iowa medical campus.  There is never a charge for our services.
Toll-free number
Our phone messaging system is available at all times. Call us toll-free, at 1-800-272-7713. Local callers can reach us at 319-356-1345.
Online access
Learn more about the Disability Resource Library on the DRL web page. Search the Library Catalog and set up an account online.
DRL Book Corner
Check out our new books!

The Disability Resource Library (DRL) has several new books that include LGBTQ+ characters with disabilities. The new books portray individuals as unique people with their own values, hopes and aspirations. Suggested age for these books is 13+.
Run
by Kody Keplinger
Bo is a girl with a wild reputation, Agnes is a blind girl with over protective parents, and the two of them are best friends...
History is All You Left Me
by Adam Silvera
When Griffin's first love and ex-boyfriend, Theo, dies in a drowning accident, his universe implodes...
Timekeeper
by Tara Sim
A prodigy mechanic who can repair not only clockwork, but time itself, determined to rescue his father from a Stopped town.
Another new book, "Gender Identity, Sexuality, and Autism" by Eva A. Mendes and Meredith R. Maroney, is a wonderful resource for individuals of all ages.